Black Diamond Chevy LSA & LS9 Serpentine Kit for Alternator Applications

 

All Inclusive Kit! Includes Hub Adapter, Belts, Remote Reservoir and More!

 

The WRAPTORTM 8 Track Serpentine System for kit Chevy LSA and LS9 engines with Air Conditioning, Power Steering and Alternator. Unique 8 Rib Serpentine pulley design increases grip, reduces stretching and prevents belt slipping when compared to traditional 6 Rib designs. Spring loaded Gates belt tensioner ensures proper tension during hard acceleration and deceleration. Mounts GM Type II Power Steering pump low on driver side and puts a Sanden Peanut style AC Compressor up on the passenger side. Places the alternator on the driver's side above the power steering pump. Uses special LS water pump with provision for bolt on water pump pulley.

 

Kit Includes:

 
High Flow Aluminum Water Pump
140 Amp, 1-Wire CS130 Alternator
Remote Mount Reservoir with Mounting Bracket
Gates Premium Green Strip 8 Rib Belt
8 Rib Supercharger Pulley and Cap
Press Fit hub for Supercharger Pulley
8 Rib Water Pump Pulley
8 Rib Crank Pulley
8 Rib Alternator Pulley
Gates Spring Loaded Idler Pulley
Passenger Side Compressor Bracket
Driver Side Power Steering / Alternator Bracket
Hub Adapter for attaching crank pulley to OEM Balancer (or optional Fluidampr SFI Balancer)
Billet alternator fan
Fits LS Based Engines with factory supercharger. Designed for the following applications:
2009 - 2015 Cadillac CTS-V
2012 - 2015 Camaro ZL1
LSA Crate Engines or other LS based Engine equipped with factory supercharger.
Application Notes:
Power Steering Lines from pump to reservoir not included.
Compatible with Hydroboost ($275 option)
Standard 3" pulley provides 8.6 PSI boost.
Some drive by wire applications may require Holley part# 717-15
Call for aftermarket superchargers.
Optional Blower (Tuner) Pulley Kit is available: Part No. LSASCKIT.

Not compatible with 102mm intake

LS9 Kits include new Edelbrock 8896 Water Pump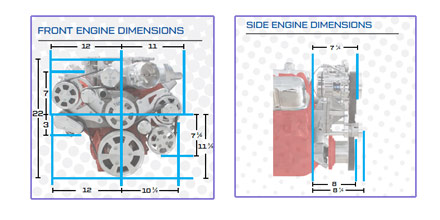 WARNING: Cancer and Reproductive Harm - www.P65Warnings.ca.gov
Black Diamond Chevy LSA and LS9 Serpentine Kit - Alternator